Stronger Together/Red Ribbon Campaign
The Stronger Together/Red Ribbon campaign is an annual fundraising initiative led jointly by the St. Maarten AIDS Foundation and Scotiabank. Established in 2006 after extensive consultation with Scotiabank, the Stronger Together/Red Ribbon campaign seeks to raise funds locally that help fuel multiple programs around HIV prevention education, as well as support and counsel for those living with HIV/AIDS on St. Maarten.
Since its inception, the AIDS Foundation has found it extremely challenging to attract international and regional funding for its efforts because of St. Maarten being classified as a high GDP/middle-income country. The local campaign therefore seeks to address this obstacle and has in turn become an integral component of the annual programming of the St. Maarten AIDS Foundation.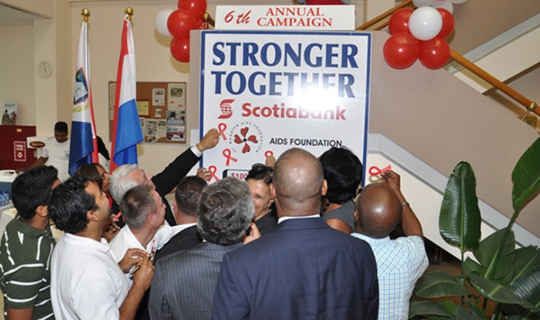 The 6th Annual Stronger Together/Red Ribbon campaign launches in September 2011: the first set of donors put up signed Red Ribbons at Scotiabank, Philipsburg
The Stronger Together/Red Ribbon campaign has garnered support from all corners of the community - from students contributing $1 for Red Ribbons and the tourists at the Maho Group's resorts donating $1 per day of their stay on the island, to Scotiabank staff selling $10 raffle tickets and local businesses/associations generously donating larger amounts, the financial support allows the St. Maarten AIDS Foundation to continue its programs and provide timely assistance to those diagnosed with HIV/AIDS. In addition, the fundraising campaign, which lasts three months each year, increases HIV awareness in the community, allows businesses to connect with socially-conscious employees towards a common goal, and instills a sense of volunteerism and good citizenship among students and members of the community of St. Maarten.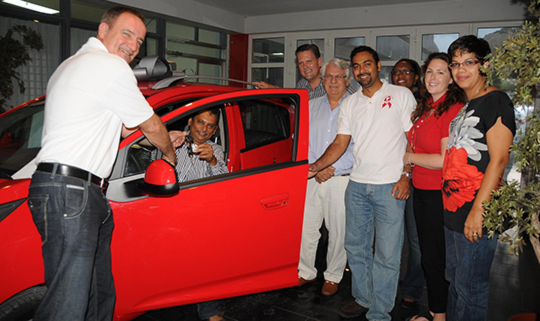 The winner of the Car Raffle 2011, Kenny Sharma, in the Chevrolet Spark donated by General Motors and facilitated by F.W. Vlaun
Funds raised in the past helped finance the care and treatment of uninsured persons living with HIV/AIDS, as well as for the implementation of the Girl Power program that empowers teenaged girls to become confident and health-conscious women. The community HIV testing days, free condom distribution and education programs at community venues are also beneficiaries of the raised funds. In 2012, the permanent Secretariat of the AIDS Foundation became the latest beneficiary of the campaigns of past years.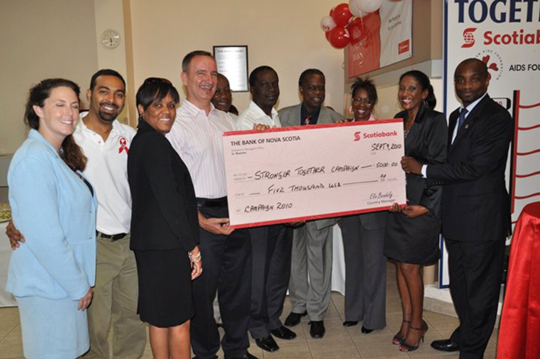 The 2011 campaign kicking off with the first donation from Scotiabank